Summertime calls for warm colors and spices. One that boasts both qualities is definitely turmeric.
I found turmeric a long time ago. We were traveling through the Middle East with my parents and we all fell in love with both the taste and its positive effects. Over the years, we've incorporated it into a lot of meals and here are just some of my favorite ways to prepare foods with it.
Turmeric is a great "pick me up" spice for when you're feeling a little run down or when you feel a cold coming. I use this quick fix to boost up my immune system. It is called turmeric milk.
To make one, heat up some non-dairy milk (I recommend oat, but you can use almond, rice, coconut or whichever you prefer best), add a little coconut oil (it contains tons of healthy fats), and good splashes of turmeric and cinnamon. Stir together and enjoy.
I like to enjoy my warm cup of turmeric milk either first thing in the morning or the last thing before bed. Just one small coffee cup instantly makes me feel stronger and it curbs my sugar cravings.
To enjoy as a spice, keep in mind that for maximizing its health potential, turmeric should be heated up. But sadly, curcumin that is the main active ingredient in turmeric, is poorly absorbed into our bloodstream. That is why it is recommended for pairing with black pepper. Black pepper contains piperine which is a natural substance that enhances the absorption of curcumin by 2000%. Curcumin is also fat soluble – that's why half a tablespoon of coconut oil in your turmeric milk will actually help you absorb all the goodness from turmeric.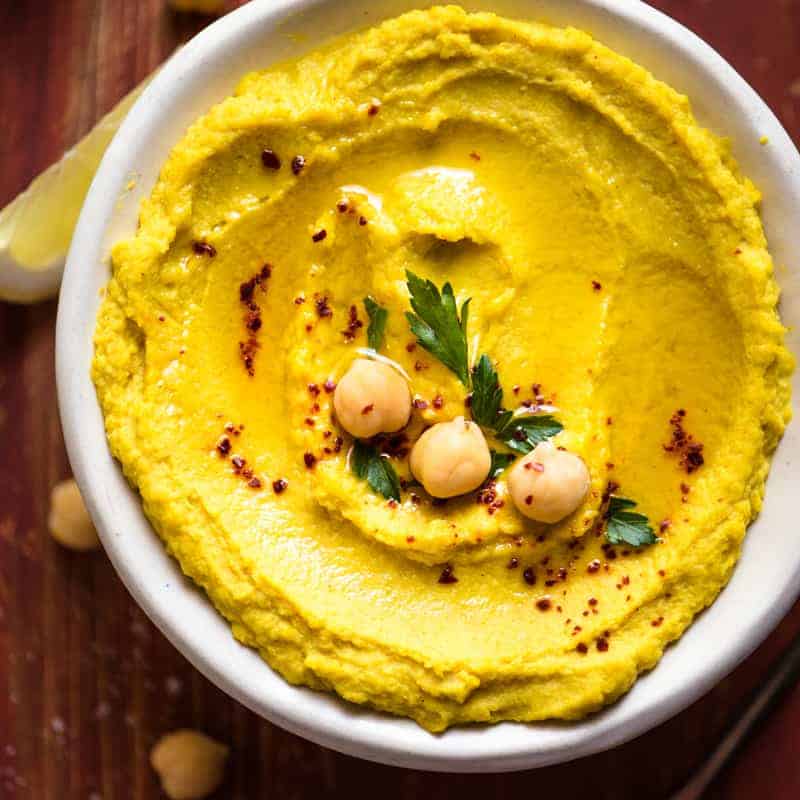 Another fairly simple recipe is hummus with turmeric. I prefer raw garbanzo beans instead of the canned alternative. Just soak them overnight and cook until softened in salted water to which I add a fair amount of turmeric. Then, drain and let cool. A wise tip is leaving some of the liquid which you may dilute later on.
Just add olive oil, fresh garlic, tahini, and spices. I like to keep it simple by adding only a pinch of red bell pepper spice. Garnish this with fresh parsley and baked seeds like pine nuts, sunflower, and sesame.
Turmeric is moreover packed with antioxidants and therefore considered to be one of the nutritionally most effective spices. It contains curcuminoids, of which the most important is curcumin boasting with bioactive compounds with powerful medicinal properties as it acts anti-inflammatory. Curcumin is also the one that gives the spice its brightly sunny orange tone.
I find that turmeric is an overlooked spice that can complement many of simply prepared dishes like risotto as a side dish to fish.
Heat up some ghee butter and add rice, including water which is twice its amount. Bring this to boil and add spices. You may opt to add a pinch of salt, pepper, and turmeric as well. Continue cooking until the rice is softened. For your benefit, it works with any kind of rice and any kind of fat, but I prefer ghee butter as it softens the rice and elevates its flavor nicely.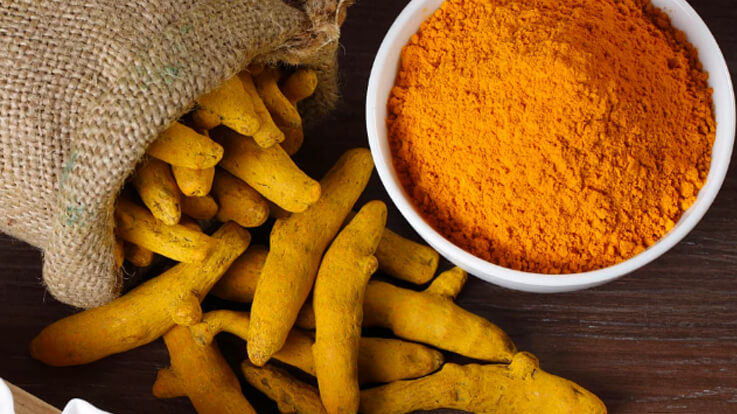 Here are some more facts about turmeric that might make you want to incorporate it into your menu daily.
It plays a vital role in repairing damage to your body as for its strong anti-inflammatory properties.
It increases the antioxidant capacity of our bodies, as antioxidants protect our bodies from free radicals. It neutralizes free radicals, stimulating the body's own antioxidant enzymes.
Curcumin boosts levels of the brain hormone BDNF, which increases the growth of new neurons and fights various degenerative processes in the brain.
Curcumin has beneficial effects on several factors known to play a role in heart disease. It improves the function of the endothelium and is a potent anti-inflammatory agent and antioxidant.
Helps prevent (and possibly fight) inflammatory diseases like arthritis. It also has a positive correlation in fighting Alzheimer's disease as it crosses the blood-brain barrier (Alzheimer's being a neurodegenerative disease and leading cause of dementia).
It moreover works against depression.
Maybe you're curious about its positive effects. Maybe you're already familiar with it and are on the look for new recipes to incorporate into your menu. Or you might be persuaded with its vibrant inspirational color. Whatever it is, I would love to hear your experience. As well as what spice is the one you can't imagine preparing your foods without and why. Looking forward to hearing from you.